Meditation
Meditation — as I define it — is counseling your mind and having a deeper relationship with yourself!
Each of us conveys our image in our own color of choice. In reality, only you - and you alone - know what you are and how unique you are on this planet.

Color after color, image after image.… Our "human nature" practice of pleasing people and the deeper desire for being accepted take us away from our true nature of inner divinity. Cultural backgrounds and our inherited belief systems all add on as layers and layers of accumulated dust.

Meditation is a ride within you into the depth of who you are. There, you can discover that you are a unique spark of divinity and an embodiment of love, peace, and happiness. After just three meditation classes, you will experience deeper sleep, an inner calmness, and knowledge about finding peace and happiness within yourself. It is the art of overcoming all kinds of barriers and being in control of yourself in every unexpected situation in life.

Meditation offers you control over your mind and teaches you how to conserve your inner energy to enjoy bliss in every moment life has to offer.

I offer private and group classes in guided breath meditation, visual meditation, and restorative meditation.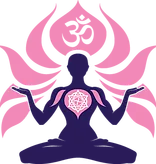 ---