Practice Yoga for Improved Focus and Health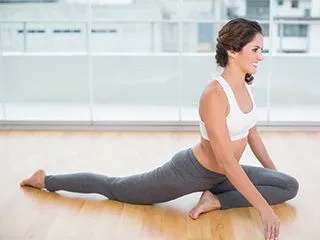 Yoga is a low impact workout that links breath with movement for physical, emotional and spiritual benefits. While yoga is rooted in Hindu and other Eastern traditions, it has evolved over thousands of years to reflect a variety of styles and disciplines. The word "yoga" comes from the Sanskrit root "yuj", which means to yoke the spirit and physical body together. At Vinayam, whether in-person or online, we modify all yoga classes to suit the specific bodies, ages and athletic abilities of our clients.
According to yogic tradition, there are six "branches" of yoga. Westerners are most familiar with different styles of yoga postures (known as asanas), as well as breathing techniques, to enhance physical, emotional and spiritual health. With regular practice, yoga offers many important health benefits, including lower blood pressure, better stress management, increased strength and flexibility, and even weight loss, thanks to slow and steady calorie burn!
Yoga for Energy and Calorie Burn
Yoga energizes the body and calms the mind. The more physical styles of yoga offered at Vinayam, like Vin-hatha yoga, tone the body and support natural weight loss through a steady calorie burn. Other gentler forms of yoga that we offer, such as restorative Gentle yoga, focus on deep stretching and long-held postures to release muscular tension. No matter what style of yoga that you choose to practice, you will receive many physical, emotional and spiritual health benefits, and Vinaya will work with you to achieve your specific goals.
Classic Yoga
One of our most popular classes is combination of classic Hatha and Vinyasa yoga styles, which is especially popular among new yogis. Proper alignment of yoga postures is important for classic yoga. To prepare for a yoga class at Vinayam, wear clothes that are comfortable, but not too baggy, so both you and your yoga instructor will be able to see and monitor your body's alignment and ensure you are not inadvertently doing anything harmful to yourself.
Classic yoga is a series of standing and seated postures that are purposefully sequenced to not only stretch the muscles, but also to invigorate the body while relaxing the mind.
In addition to the physical practice of yoga, our Classic yoga classes include meditation and breathing exercises, known as pranayama. Breathing exercises are important for calming the mind while bringing awareness to the body. Vinaya can teach you in-person or online and will guide you through the breathing exercises, aiding you with proper execution and making sure that you are always comfortable and relaxed throughout the session.
While many individuals enjoy practicing yoga at studios and gyms, yoga can also be practiced from home to supplement your classes. Even a short, daily practice will help stretch the body's muscles and build strength and flexibility, while reducing stress and anxiety. This will also help you move on to one of our more advanced classes sooner than later.
Personal Instruction Via Online Yoga
Now you can access Vinaya's yoga instruction at home or while you travel! All you need is your device (phone, tablet, or computer), an internet connection, and a space to roll out your mat. Simply log in to Skype, and Vinaya is there to take you through a session!
Vinaya's online yoga sessions are not prerecorded. She works with you live and one-on-one. Unlike streaming services, no subscriptions are required, and you won't have to pause and resume a video multiple times to catch up or follow along. Vinaya will gently and personally guide you through your practice, helping you develop strength, balance, and peace of mind.
Here are some great advantages!
Complete yoga sessions are customized to your unique needs and abilities.

All yoga styles are available, including prenatal and postnatal yoga.

You can create a sacred space and practice wherever you are.

You don't have to drive, park, or hurry to a crowded studio class.

This helps you focus inward in order to relax and clear your energy field in privacy and comfort.

Online healing and meditation also are available.
Contact Vinaya to schedule your online yoga sessions today!